Hi.
I am so uncreative when school is going. I just feel like listing all the things I do each day and boring you all with the details of my life.
So I was going to leave you with this part and save the best for last, but for anyone that only skims and doesn't read the bottom part, here is the best part. I really enjoyed this reading from Spurgeon's Morning and Evening a few days ago. It was made all the better by the song at the end. It is a great hymn that I have had the chance to sing three times already this semester!! I have sung the old version at Mrs. Howard's church and the new version at RUF. Either one is awesome and you should find it somewhere and listen to it. It is my hymn of the semester so far. heh. So it was awesome to have this in my devotions one evening. It made me smile. I've never noticed the song in there before. Good stuff. :)
"There is therefore now no condemnation."
Romans 8:1
Come, my soul, think thou of this. Believing in Jesus, thou art actually and effectually cleared from guilt; thou art led out of thy prison. Thou art no more in fetters as a bond-slave; thou art delivered now from the bondage of the law; thou art freed from sin, and canst walk at large as a freeman; thy Saviour's blood has procured thy full discharge. Thou hast a right now to approach thy Father's throne. No flames of vengeance are there to scare thee now; no fiery sword; justice cannot smite the innocent. Thy disabilities are taken away: thou wast once unable to see thy Father's face: thou canst see it now. Thou couldst not speak with him: but now thou hast access with boldness. Once there was a fear of hell upon thee; but thou hast no fear of it now, for how can there be punishment for the guiltless? He who believeth is not condemned, and cannot be punished. And more than all, the privileges thou mightst have enjoyed, if thou hadst never sinned, are thine now that thou art justified. All the blessings which thou wouldst have had if thou hadst kept the law, and more, are thine, because Christ has kept it for thee. All the love and the acceptance which perfect obedience could have obtained of God, belong to thee, because Christ was perfectly obedient on thy behalf, and hath imputed all his merits to thy account, that thou mightst be exceeding rich through him, who for thy sake became exceeding poor. Oh! how great the debt of love and gratitude thou owest to thy Saviour!

"A debtor to mercy alone,
Of covenant mercy I sing;
Nor fear with thy righteousness on,
My person and offerings to bring:
The terrors of law and of God,
With me can have nothing to do;
My Saviour's obedience and blood
Hide all my transgressions from view."

Yesterday and today I spend all my free hours tracking down where I could get 1) blueprints to the freshman dorms and 2) the figures to how much water they each use. Now why would I want to know that you ask...? Well, I have this paper due on Monday that needs both of those things. I can't write it without the information found in both of these things. So, today at 3:45 I finally got directed to the blueprint archives building (which is in this weird creepy little run down building on like a random part of the campus). I arrived at 3:50 (you say, this is nice... well, not really because you see parking is free at four, you have to pay at 3:50, if you can find a free meter). I found a free meter and paid and walked to the building. This place was crazy. It was a room full of flatfiles. And each flatfile was STUFFED with every drawing that had ever been made of every building on campus. It sort of looked like this picture below. The right hand set would have another row behind them facing the other way that you could walk around in the middle of the room. On the far right was two copiers, a scanner, two desks, and a few tables to spread drawings out on.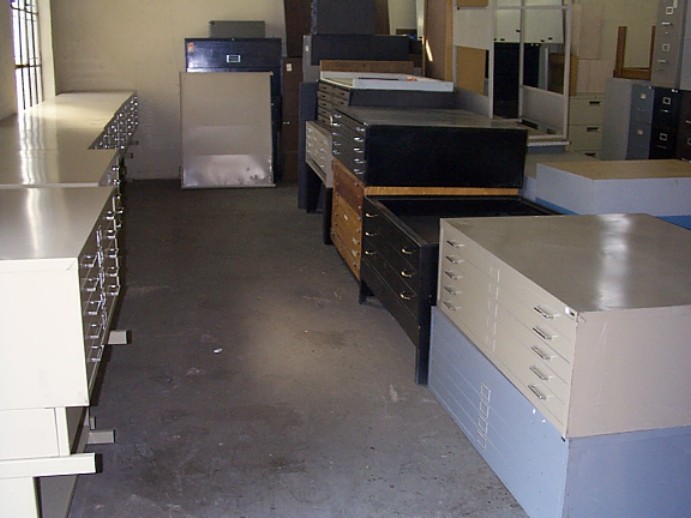 And none of them matched, just like in this picture. So I thumbed through they files looking for plumbing diagrams from three of the freshman dorms AND I found them. Each of them was eight pages long. So 3*8=24. I thought for sure that it was going to cost me a fortune to get these copied and I would be stuck in this little messy office for hours copying down the figures I needed. But when I asked the girl working there she told me I could copy up to 25 pages for free. YES!!! So I did. And I am very happy. You can ask Jared because I called him afterward talking a mile a minute like I do when I am really really really excited about something.

These drawings are so neat too. They are all really old and hand drawn. They are beautiful. Engineering used to be such an art. I'm sort of sad that we don't get to learn how to draft and draw such awesome blueprints. Computers have taken away the beauty of blueprints. They all look roughly the same now. I know, it is easier and all, but it just looks so much cooler this way.

So, I still have to track down the water data, but I am halfway there. I've been through 11 different people so far in tracking the water data. I think I may go visit the office of something in person tomorrow if I can track down who would keep such records... And I get to come home this weekend for the women's retreat (where I am rooming with my mother and second mother!!! They are so sweet to include me).

Oh, and I have decided that I like vegetable spaghetti better then meated spaghetti. I like it with zucchini in it. Yum yum yum.

And one more last thing: this bridge in Dubai is going to be neat. Sorry for the vast number of photos. They are all stuck together and I don't feel like editing them. I really only wanted the top one. Oh well.